Trapped In The Forest Controls
Right control stick: Move.
Left "X" button: Use tool.
Left arrow button: Switch tools.
Top Left, Striped button: Pause, Options
Backpack button: Inventory
Saw button: Craft
Craftable:
Fire
Cabin
Wall (Stone)
Fence (Wooden)
Bow
Arrow
---
Tools and Usage:
Axe: Cutting down trees, also works for rocks and bushes
Pickaxe: Mining rock; More effective than ax.
Machete: Cutting down bushes; More effective than ax.
Bow: Killing Animals; Requires Arrows
All tools can be used in killing animals. Machete is most effective, followed by ax. Pickaxe is least effective.
---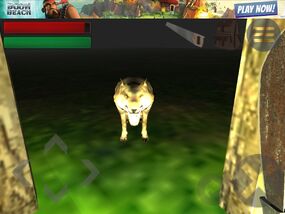 Animals:
---
Other tips:
Collect as many materials as you can once you start the game.
Once the game is started, try to collect all the tools.
When continuing a game, you always start at your original starting location.
Build your cabin near your start location.
Build a log cabin with a fence around it to protect.
Creatures cannot enter log cabin, or pass through any space wider than the bear.
It is possible to kill an animal through an opening without getting hit.
The deer man can hit you through a fence or cabin if you are right against the wall.
Use fires to mark your way back to your cabin when exploring and gathering resources.
---
Known Bugs:
Vanishing Inventory, typically occurs after a few structures have been crafted. Some things even vanish as quickly as you gather them.
Some animals fail to spawn at times.